Ice damage, heavy snow and rain is a part of life when you live in or near Rochester, NY. New Wave Gutters is your local experienced, professional gutter repair service center when nature takes it toll on your gutters. Unlike many other contractors, gutters, soffits and fascia repairs are all we do!
Soffit and Fascia Repairs
The soffit is the area between the gutter and and exterior wall which normally allows air circulation to move beneath the roof sheathing. The soffit serves a very important role of keeping the underside of the roof dry in the winter and the attic cooler in the summer. It also keeps pests out of your home.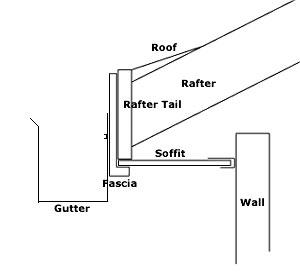 Fascia is the covering at the butt end of the roof rafters and is often the mounting point for the soffit and gutter. It is usually made of a rather thin wood plank and covered with either paint, vinyl, or aluminum.
Rochester's heavy snow and ice can build up enough to tear off the gutter, fascia and even the soffit.  Gutter, soffit and fascia repairs is the majority of our work in the winter time!
New Wave Gutter's technicians can repair and install your soffits, fascia and gutters all at the same time. We can make existing wooden fascia maintenance free with aluminum coverings. Our soffits are made of vinyl and are completely maintenance free too!
We are professional gutter repair, soffit repair and fascia repair specialists in Rochester. We can come to your home, give a Free inspection and estimate to determine the extent of the gutter system damage, repair options and preventative measures to take on-going.